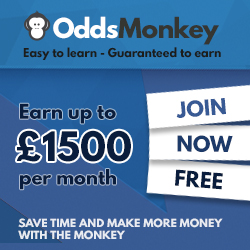 Matched Betting is a great way to earn yourself an extra income each month. I had no clue it was a 'real' way to make money until only a few months ago.
Ever since I made my first little bit of money from it if have been telling everyone about it, everryyoone! People NEED to know about this 'secret' way to making a substantial amount of money in such a short time frame.
Matched Betting isn't a new concept to making money but I knew very little about it. I had came across it many times whilst desperately searching google for "ways to make money online".  After digging deep and doing some research on it. I finally took the plunge to see what all the fuss was about.
Matched Betting is risk free and tax free, you won't lose any money. However the word betting in itself has a daunting ring to it, but it's not actually betting, effectively you aren't at risk of losing. It's great way for anyone to make some serious cash. I'm not the best with numbers and in my first week I managed to make £413!
I sourced two Matched Betting websites that seemed to be mentioned a lot whilst doing some research. Oddsmonkey & Profit Accumulator. I signed up with Oddsmonkey purely on the fact their Premium Membership costs slightly less. To start I did a free trial with Oddsmonkey, with the promise you can make up to £45. No bank account details needed to register, I thought why not… One day in and I hit £40. Pretty much straight away I signed up as a premium member.
The premium membership includes all the tools you need to make around £1500 per month. Oddsmonkey give you a step by step guide on matched betting, they practically hold your hand and walk you through it. You are shown how to do everything! Oddsmonkey provide the 'oddsmatcher' as a tool to help make things as straightforward as possible.This tool finds you the best bets and calculates the odds, the money you need and exactly what profit you will make.
Play around with it and familiarise yourself with exactly how it works before putting any money down. The concept of it all is pretty straightforward once you have did it a few times. I would recommend a float of around £100-£200 to get you started, if you have more than this then great! You can start the process with less than £100 in your float, you will still make money – just at a slightly slower pace at first. Remember you won't lose any of this money. The more money you have in your exchange account for your lay bets the more free bets you can complete. These free bets the bookmakers provide make you the profit. Whether you do it a few times a month or a few times a day your bank balance will be better off.
Matched Betting –
Risk – free, you can't lose.
Step by Step guide through Oddsmonkey.
No card details needed to sign for your free trial.
Earn up to £50 in your FREE trial.
Potential to make hundreds if you decide its for you.
Related
(Visited 28 times, 1 visits today)